CASTING SHOULD CALL US. THIS LIST INCLUDES ARTISTS WHO COULD PROPERLY PLAY THE ROLE OF THE FIVE SINGERS THAT MADE UP THE MUSES AND THEY ALSO LOOK THE PART.
By Clarkisha Kent and Da'Shaun Harrison
It was recently announced that there would be a live-action remake of Disney's Hercules. There is a lot to be said about these string of live-action films being created in place of thoughtful new content, but this isn't the piece for that critique. Following the announcement, fans took to Twitter to voice the need for the cast directors to cast The Muses properly (we are currently ignoring the fact that The Russo brothers are now attached).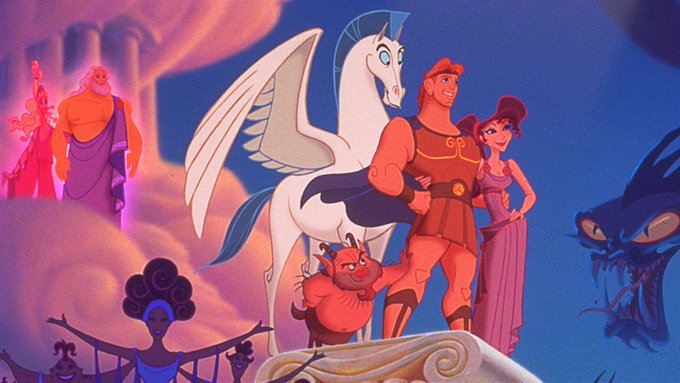 Many fans began to make their own dream casts… and most of those casts were filled with lightskinned women (which The Muses were not) who were not vocalists (which The Muses absolutely were). To play any of the five, you have to have style, you have to have flair, you must have technique, you're required to have range, and baby… you must have soul! And that's the Gospel Truth!
So we decided to come together to create our own list of artists and actresses who could properly play the role of the five singers that made up The Muses and who also fit the right description.
1. Anika Noni Rose
You know her as the voice of Princess Tiana. Yes, Miss "I'm allllll. moooooost. THEREEEEERE!" Exactly.
2. Kyla Jade
The Beatles could have never sang this song with as much grit, soul, and power as she did.
3. Jennifer Hudson 
She was the best thing about Cats the movie. No, literally… the film saw some of the lowest numbers from critics in recent history. As it should have. But per usual, JHud made any part of this movie bearable with her brilliant voice. Another skill that may come in handy with any Disney live remake.
4. Kierra Sheard
Daughter of Karen Clark-Sheard from the legendary Clark Sisters, and a star-power of her own in Gospel music.
5. Kelly Rowland
We mean… y'all know her. Please.
6. Audra McDonald
Queen of Broadway. Your fave can't.
7. Jazmine Sullivan
Maybe since she won't give us a new album, she'll bless us with her presence in this remake.
8. Amber Riley 
She's always been a fucking star and she was 100% the reason many of us watched Glee as long as we did (it's true, don't lie). And it's about damn time she gets her due!
9. Brandy 
The Vocal Bible. Enough said.
10. Fantasia
Carrying the torch Aretha passed to her. The heir to the throne of Soul. No one outsings her in Soul music; she IS the moment.
11. Yolanda Adams
Many would argue she's the reigning Queen of Gospel. We are "many."
12. Patina Miller
You may know her from her role in Madam Secretary, but she's a star on Broadway as well
13. Le'Andria Johnson
She did all of this while hoarse and it was still miles better than the people from the Beige Brigade™️ that have been offered up.
14. Nikki Ross
One of the most underrated vocalists to ever sing. Her voice is all 88 keys on the grand piano—she needs no accompaniment.
15. Denée Benton
She didn't even know all the lyrics, but she knew all of the notes.
16. Adrienne Walker
Her voice is so tender and powerful. Very reminiscent of Audra McDonald. So it only makes sense that the brilliant performer from The Lion King on Broadway finds her way to this list.
17. NaTasha Yvette Williams
She sang three vastly different songs, with very broad ranges, in 7 minutes. No one does it quite like fat Black women.
18. Missy Elliott
We know what you're thinking. Missy's a rapper! And a writer! How dare??? Well. Let's just say that Madam Elliott is responsible for things like backing Fantasia on "Free Yourself" (which she ATE up) and we're sure she could eat this the fuck up if given the opportunity.
19. Kelly Price
It's literally Kelly Price. WHOMST among us could cover a Shirley Murdock song and make it their own? Exactly.
20. Lizzo
Lizzo is simply a no-brainer for the coveted role of a Muse. She can rap, she can dance, and she can sing SING the house down. Don't believe us? Please direct yourself to the material below.
21. Alex Newell
He is one of the fiercest, liveliest sopranos (yes, we did say "he" and "soprano" in the same sentence and yes it is about the same person) to ever touch a Broadway stage, and… girl, just watch the video. 'cause period.
---
Da'Shaun Harrison is a trans theorist and Southern-born and bred abolitionist in Atlanta, GA. They are the author of Belly of the Beast: The Politics of Anti-Fatness as Anti-Blackness, which won the 2022 Lambda Literary Award for Transgender Nonfiction and several other media/literary honors. As an editor, movement media and narrative strategist, and storyteller, Harrison uses their extensive history as a community organizer—which began in 2014 during their first year at Morehouse College—to frame their political thought and cultural criticism. Through the lens of what Harrison calls "Black Fat Studies," they lecture on blackness, fatness, gender, and their intersections. Harrison currently serves as Editor-at-Large at Scalawag Magazine, is a co-host of the podcast "Unsolicited: Fatties Talk Back," and ⅓ of the video podcast "In The Middle." Between the years 2019 and 2021, Harrison served as Associate Editor—and later as Managing Editor—of Wear Your Voice Magazine.
All author posts